LONG BRANCH PIER PROJECT APPROVED – PHASE 2
Thursday, March 13th, 2014
" Long Branch City Council passed a Resolution to move forward with the Phase 2 of the Long Branch Pier Project, awarding the project phase to Arup Group Limited, an international management and consulting firm headquartered in London.  Arup will provide architectural and engineering services to the proposed Pier Project…."Long Branch New Project for Phase 2 approved read more…..
According to information from Wikipedia, the land that Pier Village now sits on was originally that of the Long Branch Pier and The Kids Amusement Pier.

On June 8, 1987, at around 3 PM, a fire broke out underneath the boardwalk in an electrical and gas box at the end of the pier. The fire quickly spread throughout the pier despite efforts by the Long Branch Fire Department to save it. After the fire only the water attractions across the street from the pier remained. In the following weeks business had slowed down so the remaining portion of Kid's World closed down permanently at the end of the summer.
The owner, Pat Cicalese, planned on rebuilding the pier. However, his insurance did not cover the cost to rebuild what was destroyed and the town would not fund the project so the plans were abandoned. What was left of Kid's World remained abandoned for 17 years after the fire.
Remains of the pier were demolished in the late 1990s. The rest of Kid's World across the street met the wrecking ball in 2002.
Applied Development Company, a Hoboken, NJ-based developer led by brothers David Barry and Michael Barry, was designated the developer of the 16-acre (65,000 m2) site by the City of Long Branch and soon began construction of Pier Village, starting with the rebuilding of the boardwalk.  More……..
Beautiful condominiums are available for sale along the oceanfront with price ranges from mid $300's up to over $1M.  Properties available for sale at Beachfront North and The Bluffs as well as condominiums for sale in the heart of Pier Village.
Priced at $698,000 featuring 3 bedrooms 2 full baths….see details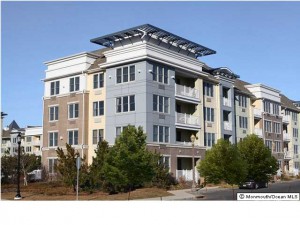 For a personal tour of this property, please contact Diane Kaplan at dianekaplanrealestate@gmail.com or by phone at 732-672-0409.  Specializing in Oceanfront properties, Diane has the information you need to make an informed decision on the property you want to call Home.  Go to Diane Kaplan's Search for Homes Page and search all listings in Monmouth and Ocean counties.