New Jersey's Comeback
Monday, June 2nd, 2014
In late October 2012, Superstorm Sandy, came around and interrupted the lives of many of us who live in the East Coast. While it has been a rocky road towards recovery, with the help of many worldwide organizations, famous entertainment personalities' contributions, and donations from the rest of the country, the severely damaged parts of New Jersey are slowly starting to walk again. The restoration process has come a long way in two years: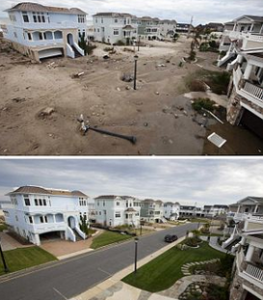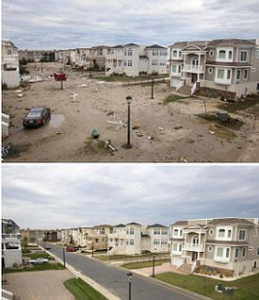 Sea Bright Neighborhood (October 2012 vs now)
As the Jersey shore continues the restoration process, we remain strong and welcoming to the changes. No matter the devastating natural occurrence,  the ocean always returns to its infectious calm state of mind.
In life, everything is not always going to go as planned. With just about every aspect, (relationships, owning a house, owning a car, parenting) there are going to be downfalls, we as individuals have to evaluate what is important in our lives. For me, the calm the shore instills in me surpasses any negative aspect it has ever brought onto my life.
Sincerely,
DBK